Amalfi gives its name to the homonymous strip of the peninsula from where it rises, the Amalfi Coast, declared by UNESCO world heritage site in 1997. Its origins date back to the Romans.
In the IX century it became a Maritime Republic, competing with Pisa, Venice and Genoa for supremacy in the Mediterranean. Every year a crew of amalfitan rowers take part re-invoking the Regatta of the Maritime Republics; in a boat race challenging the other three republics. It is an historical celebration brought to life in a sumptuous and colourful parade attracting many visitors yearly.
The most important monument of Amalfi is the arabesque and byzantine cathedral with its amazing bell tower, dedicated to Saint Andrew: it rises at the end of steep steps, with an impressive façade of bronze portals cast in 1066 in Constantinople, within the complex sits also the beautiful "Chiostro Del Paradiso" (Cloister of Paradise).
The jagged Amalfi coastline is characterised by its numerous caves, creeks and steep cliffs. Among the most spectacular of them, is the famous "Grotto dello Smeraldo" (Emerald Caves): it is known for its magnificent light show, caused by sun light reflecting off the stalactites against the green water, which give rise to the emerald colour with in, it has been mentioned in the works of many poets and writers.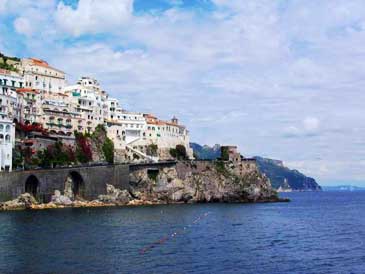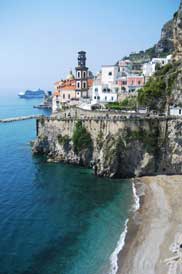 Atrani located close to Amalfi. Atrani is one of the most picturesque villages of the Amalfi Coast, reflected in a bright bay bordered by a savage shore. Seeped in history and tradition, Atrani is characterised by a labyrinth of medieval streets winding off the small and elegant central square Umberto I. The square is the very heart of Atrani and its social life; full of restaurants and bars, where everyone loves to while away the hours; chat with friends and meet each other for dinner or a simple appetiser. A Moresque bell tower dominates the village, and the Santa Maria Maddalena's Church, with its splendid majolica-tiled domes, which never fails to impress the visitor.